The whakapapa or story of the contemporary Māori doctors began over 100 years ago when Sir Maui Pomare (Te Atiawa) graduated from the American Missionary College in Chicago.  Four years later Sir Peter Buck – Te Rangihiroa (Ngāti Mutunga/Ngāti Tama) – became the first Māori graduate from the Otago Medical School followed by Tutere Wi Repa (Ngāti Porou) in 1908.   The final member of this famous quartet was Pohau (Ned) Ellison (Ngāi Tahu) who graduated in 1919.  They were the original members of the Māori Medical Practitioners Association, and began the public and community health efforts to improve the health of their people.  
Alongside Sir James Carroll (Ngāti Kahungunu), Sir Apirana Ngata (Ngāti Porou) and other members of the Young Māori Party, they became the driving forces behind the Māori renaissance and development. 
Taken from Dr Paratene Ngata oration given to the annual conference of the RNZCGP, September 2002 
A group of Māori medical practitioners met in 1995 to establish Te Ohu Rata o Aotearoa. The inaugural annual meeting (Hui-ā-Tau) took place in 1996, where a constitution was ratified, an executive elected and the legal status of an incorporated society obtained. 
The second Hui-ā-tau was held in early 1998. The first Scientific Conference was held in conjunction with this annual meeting to promote information exchange and present member's scientific and research work.  Hui-ā-Tau and Scientific conferences have been held annually since then.  
The Whakapapa of the Tokotoko
The serpent that forms the hand piece represents the medical serpent. 
The top carved figure is Sir Maui Pomare – 1st Māori Doctor who graduated in the USA 1898. 
The 2nd carved figure is Te Rangi Hiroa – Sir Peter Buck – 2nd Māori Doctor and 1st Māori Doctor to Graduate from NZ Otago in 1904. 
The 3rd carved figure is Tutere Wi Repa – the 3rd Māori Doctor 
The 4th carved figure is Pohau Ellison the 4th Māori Doctor 
Then the next carved figure is a Tāne figure and represents all male Māori Doctors 
The bottom carved figure is a wahine figure representing all female doctors and the 1st Female Māori doctor was Rina Moore nee Rophia graduated 1947 
Below these figures is the pātiki pattern which represents the whakapapa of Māori doctors. 
Kaiwhakairo – Abel Vaireka,  Te Ātiawa, Kuki Airani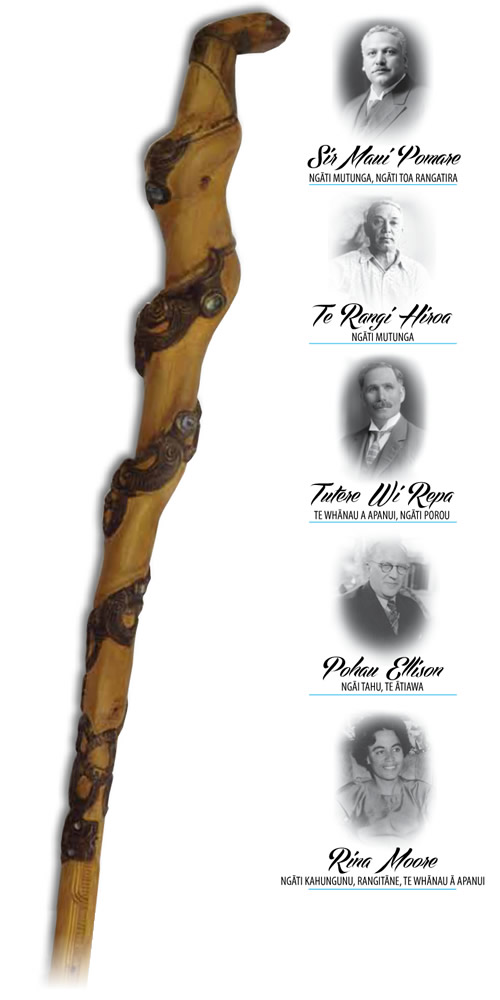 Get in touch, or register now